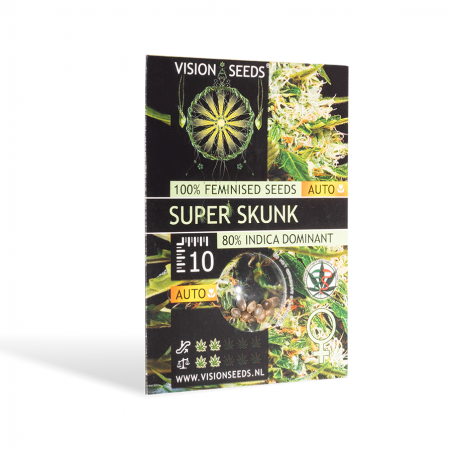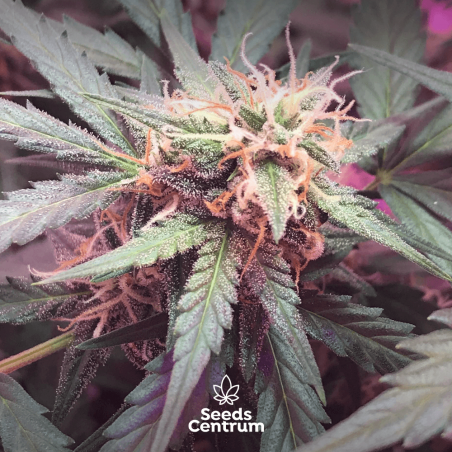 Super Skunk Auto - autoflowering cannabis seeds | Vision Seeds
Autoflowering hemp seeds Super Skunk Auto form the most stable cannabis variety, which is more difficult to place in pots.
Super Skunk Autoflowering
Auto-flowering cannabis seeds Super Skunk Auto produce beautiful and dense cannabis plants that reach a medium height. Its genetics come from Skunk's parents 1 x Afghani Hash x Ruderalis.
For the best results, the Super Skunk Auto needs space in which its roots can develop freely. It is recommended to use a volume of + - 10 liters, it will not affect the height of the plant, but it will give it the space needed for optimal development of its beauty.
This cannabis plant dominates indica genetics and is one of the most reliable and stable strains currently available on the cannabis seed market.
The introduction of the Lowryder auto-flower genes has created an amazing self-flowering strain suitable for indoor environment, greenhouses, water cultures and even outdoor environment in warmer climates.
This medicinal cannabis is often used around the world to relieve stress, chronic pain and increase appetite.
Thanks to easy cultivation and minimal care to achieve good yields, the Super Skunk Auto is especially recommended for beginners.
Genetics: Indica: 80% / Sativa: 20%
THC: 10-20%
CBD: 0.1 - 1%
Indoor yield: 60 g / m2
Outdoor yield: 140 g / m2
Indoor / outdoor harvest: 7 weeks after germination
Height: 80 cm
We offer auto-flowering hemp seeds Super Skunk Auto in 3 pcs, 5 pcs and 10 pcs variants.
Seeds

Autoflowering

Medical Seeds

Insomnia
Loss of appetite
Pain
Stress

Cultivation

Beginner

Placement

Greenhouse
Indoor
Outdoor

Yield

Average

THC content

10 - 20%

CBD content

Less than 2%

Flowering time

6 - 8 weeks

Height

Under 1m

Strains

Indica

Effect

Laidback
Pleasing
Relaxing
Sleepy
Soothing

Seed bank

Vision Seeds

Origin

Netherlands

Awards

No

16 other products in the same category:
Customers who bought this product also bought: